There is no doubt that 2019 is shaping up to be one of the most exciting years ever when it comes to gadgets innovations. The trends are in and many companies have shown off their latest development in technology. In order to increase their productivity, small businesses should equip their working place with trustworthy gadgets. However, for these small businesses, such trends might break their budget in no time.
The following list depicts the 06 must-have gadgets for small businesses in 2019 at a reasonable price.
Packed pixels.
You are a small business and need to set everything on your own. Luckily, this portable monitor solution is exactly what you need.  You will gain 02 extra displays and will be able to manage projects like never before.  The 02 screens are easy to use and set up and are both 9.7 inches wide.
Check it here.
2. 

CANON PIXMA iX6820 Wireless Business Printer.
Wireless devices are of great help when it comes to clever management and layout. Wireless printers have been around for decades and still gaining popularity. They are fast, smart and cordless. CANON PIXMA iX6820 is the device that you need if you are looking for a handy printer at a good price. It can be used for different activities: printing, scanning and making copies. OS Compatibility : Windows 8, Windows 8.1, Windows 7, Windows 7 SP1, Windows Vista SP1, Vista SP2, Windows XP SP3 32-bit13. Mac compatibility : Mac OS X v10.6.8 – v10.913. You can print it in black and color.
Check the price
3. Lumina 15000mAh Ultra Compact Portable Charger.
This is one of the highest speed charging portable ever designed. It is pretty hard to miss these devices today. Compatible with i-phones, android or tablet devices, this portable charger is the backup power tool that you need to supply devices anytime you are out of the office.  This is a High powered 15,000 mAH capacity with two USB outputs: 5V 2.4A with a total max output of 5V 4.8A.
There is a good video to look at.
Check the price here.
4. Keen Home.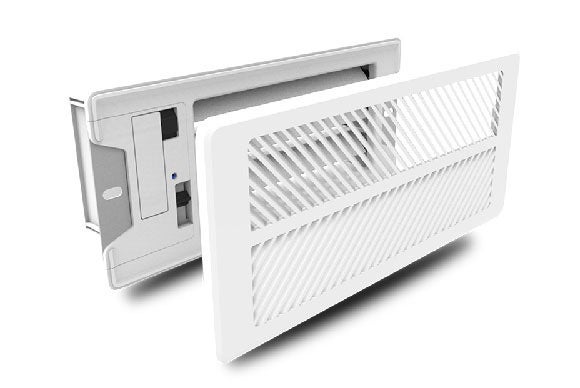 Don't focus on the word 'home', it can be used at offices too. A Keen home gadget is that device that allows you to keep the temperature of the offices uniform and balanced. Recent studies claim that indoor pollution at work lowers productivity by 10%.  The keen home will not only reduces indoor pollution; but will cut electric bills and save more energy.
Find it here.
5. AAXA M6 Micro Projector
Most Small businesses don't have a dedicated conference room to hold meetings and presentations. Portable projectors are devices to use in such situations and are easy to configure and use. AAXA M6 Micro Projector is an LED projector that can be used at different locations. It has a full 1080p HD resolution and satisfactory data image quality. This is an energy-efficient projector that can also be used when traveling or for unplanned presentations.
It is one of the most affordable micro projectors that you will find in the market today. So you better give it a try.
Check out there